SCHLIX CMS 2.1.6 has been released in 35 languages
SCHLIX CMS v2.1.6 build #1 has been released. Other than bug fixes, the highlight of this release is its first ever localization of SCHLIX CMS. We have decided to shift the priority for our e-commerce system to the end of second quarter of 2018 so the core of SCHLIX CMS could be translated into 35 languages: Belarusian (Беларуская мова), Bulgarian (Български), Chinese Simplified (简体中文) and Traditional (繁體中文), Croatian (Hrvatski), Czech (Čeština), Danish (Dansk), Dutch (Nederlands), Estonian (Eesti), Filipino (Tagalog), Finnish (Suomi), French (Français), German (Deutsch), Greek (Ελληνικά), Hindi (हिन्दी), Hungarian (Magyar), Italian (Italiano), Japanese (日本語), Korean (한국어), Macedonian (Mакедонски), Norwegian (Norsk), Polish (Język polski), Portuguese (Português), Romanian (Română), Russian (Русский), Slovak (Slovenčina), Slovenian (Slovenščina), Spanish (Español), Swedish (Svenska), Thai (ไทย), Turkish (Türkçe), Ukrainian (Українська), and Vietnamese (Tiếng Việt),
Please note that there may still be some mistranslations, however we are planning on correcting these until the end of December 2017. System translations for Right-to-Left languages (Arabic, Hebrew, Persian, etc) will be released at the end of Q1-2018 once we have consulted with subject matter expert since we don't have an in-house expert for this.
You can change the language by clicking Global System Configuration or simply click Change under System Information.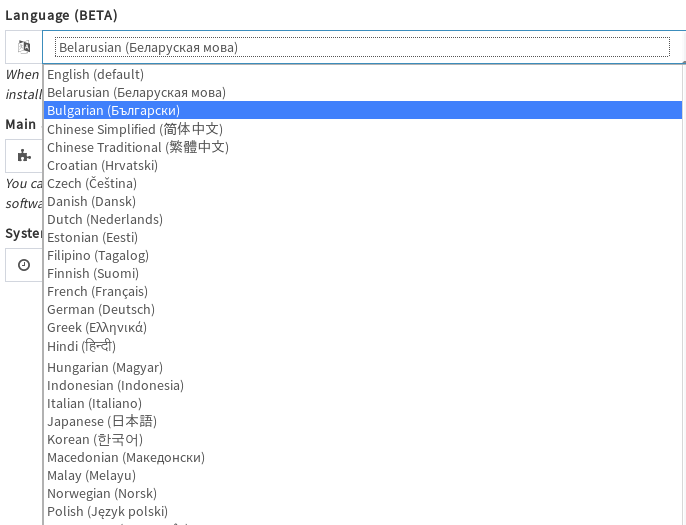 Special thanks for Jarrod Farncomb from Datacom TSS (Australia) and Gjoko Krstic from Zero Science Lab (Mакедонски) for helping us test v2.1.5-4 before v2.1.6 release and pointed out possible bugs.
The following items were fixed and/or added:
Fixed: blog URL could be empty when saved
Fixed: typos in the language string
Fixed: tags resulted in 404 errors
Fixed: new macro/block installation did not refresh the content immediately and would not show up until the next reload
Fixed: duplicate tags in applications table during upgrade
Fixed: adding www during installation caused www.www to be written in the multisite-config file
Removed: default site meta keywords and meta description from the sub-site config file (moved to inside individual applications)
New: ability to change language and other site information from the main admin page
Enhancement: add some icons to item edit form for Blog and Web Pages for better visual cues
Download SCHLIX CMS v2.1.6 now.
If you are upgrading from a previous version, simply click Settings, then click System Update. Please note that due to session name change in this version, you will be automatically logged out after the upgrade.