Application Basic Concept
An application acts as the main controller of a page. In a page, there can only be one application at a time since it acts as a controller, receiving requests from the URL. However, this does not take into account other applications that can be called from a block. In order for an application to be considered valid, it must meet the following criterias:
Inherits from any class that inherits from cmsApplication_Basic
Has an admin javascript view controller, inherited from any class that inherits from SCHLIX.CMS.BaseController javascript class
Contains an install and uninstall SQL script with extension .sql
Contains a backend view (view.admin.main.template.php) for main administration view
Contains a frontend view (view.main.template.php) for user-facing site
If your class lists category/items, it should also contain the necessary view file.
Contains packageinfo.inc.php, an info file containing GUID, package name, author's email, etc.
A sample of an application directory containing the necessary files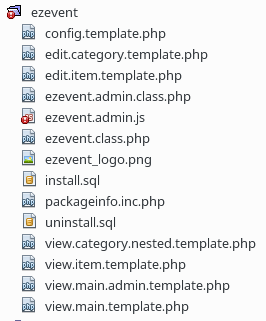 If you have never developed a SCHLIX CMS plugin before, it is highly recommended to use the Plugin Creator to simplify this task.
Main classes: EzEvent (ezevent.class.php) and EZEvent_Admin (ezevent.admin.class.php).
Frontend view templates: view.item.template.php, view.category.nested.template.php, view.main.template.php
Backend view template: only view.main.admin.template.php
Backend editor template: edit.item.template.php and edit.category.template.php
Backend configuration file: config.template.php
Logo: ezevent_logo.png
Install/uninstall SQL script: install.sql and uninstall.sql
An application may also contain another class. For instance, Users class has a subclass Users_History class and the purpose is to list and record user actions.
At the very basic, an application does the following thing
Display the page title
Display relevant information for the search engine: meta description, meta keywords, etc
Display its content
Execute a command passed through the Run($command) function, where $command may be a parameter of $_GET['action'] or something else as interpreted by the interpretFriendlyURL() (which you can customize and override in your class).